Search Articles
View Other Content

0
Standard Parts enhanced
Standard Part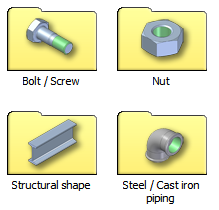 Standard Parts enhanced
Several enhancements have been made to Standard Parts.

Standard Parts now supports InsightXT. To store your standard parts in InsightXT, run the Standard Parts Configuration Manager and select the Store files in InsightXT option.

Standard Parts now has a delivery option for Korean Standard (KS) standard parts in the machine library setup.

Standard Parts now delivers a limited set of DIN and ISO standard valve parts to use in assembly and pipe routes.

Standard Parts now provides links on the Startup menu under Solid Edge ST5– Standard Parts to the online Installation Guide and User Guide .pdf documents.

The Custom Setup page in the installation of the Standard Parts Administrator now defaults to Master Part Files, which is the recommended setting for new standard part users. When Master Part Files is selected, additional information for this option is displayed in the Feature Description area on the dialog box.
Article: Standard Parts enhanced