Search Articles
View Other Content

0
Solution Manager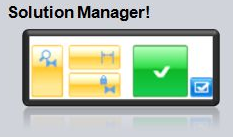 Solution Manager
Sometimes face relationships produce an over constrained condition. This condition can cause a synchronous edit to fail or provide unexpected results. Solution Manager provides you with more detail and actions regarding the solve of an over constrained condition. Solution Manager is designed to give the you the ability to graphically interact with the model to control all relationships relevant to the current solve.
The Solution Manager buttons are on the Live Rules panel.

To learn how to use Solution Manager, see
Solution Manager workflow
.
Note:
Solution Manager replaces the Advanced Live Rules.
Article: Solution Manager