Search Articles
View Other Content

0
Solid Edge surface overview
BlueSurf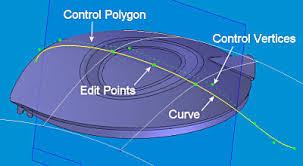 Introduction of Synchronous Technology have attract much of the attention. Has ST find it's way inside mechanical modeling.
Many try to create diversion by asking if we can create/manipulate surface with ST.
Unfortunately at this time surface modeling has not been synchronize.
Bad mouth will jump on that sentence...sorry but we seem to forget that ST is one tool inside SE with ST.
The whole surface features are still available under traditional modeling environment.
Traditional surface features are there, extrude, revolve, sweep... What's that BlueSurf?
BlueSurf is a patent process for creating surface. Believe it or not we could almost call it the grand-grand mother of Synchronous Technology. Way back in V14 (if memories are good) Bluesurf was introduce.
What was revolutionary?
BlueSurf allow the creation of base curve after the creation of the surface.
Along BlueSurf, BlueDot was also introduce. Those BlueDot serve has control points to modify critical points in a surface.
BlueDot can be use to modify surface curves at any point in time with no order priority.
B
lueSurf & BlueDot general workflow - video
BlueDot edition - video
Reference plane
When dealing with surfaces, it is essential to have the ability to create planes. A series of commands allow users to create the correct plane with the correct orientation.
Base Plane - video
Plane creation video - not available yet
Spline control
Lets go back to sketch level a little to see what kind of control we have.
The spline has «control point» directly on the curve and «vertex» locates at the summit of the control polygon.
Each of them can be constrain with dimension or geometric constrain or simple geometry like line arc and cirlce
Spline control point manipulation
Tangency control
When placing element in the sketch you have the possibility to define the type of trangency.
Usually I illustrate three state of tangency:
C0: just touching, could have a nick
C1: tangent, but could have sudden change in curvature
C2: the patches are curvature continuous to one another
The famous «Zebra strip» may help the visualisation of those
For those who are surface geek, perhaps we could also talk about:
G0 – position (touching)
G1 – tangent (angle)
G2 – curvature (radius)
G3 – acceleration (rate of change of curvature)Rougly i think we could represent those using a visual representation of the intensity of curvature using «Curvature comb».
At the sketch level tangency can be achieve/control using the geometric constraint:
That's the introduction for surface functionality inside SEwST hope this light some shadow.
Enjoy this series of videos
http://vimeo.com/2229925
Article: Solid Edge surface overview