Search Articles
View Other Content

0
What is surfacing and why use it?
Surfacing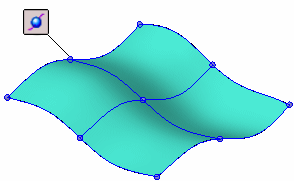 The solid modeling method is typically used when modeling with solid features. The following are key features of the solid modeling approach:
It is characterized by 2D sketches/profiles used in creating extrusions, revolutions, and lofts to form solids, and blends on the edges of solids.

It most often involves the addition or subtraction of material using analytic shapes.
The model's topology is driven by faces.
Holes are used for alignment.
Feature faces are used for alignment as well as for mating with other features.
Edges are rounded for safety and strength.
Edges and faces are primarily analytic-based.
Modeling with surface-based features typically begins with a wireframe, from which surfaces are generated. Key features of surface modeling: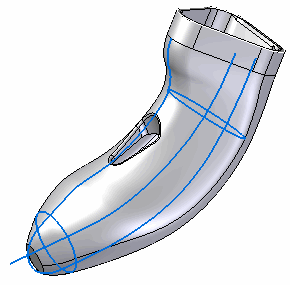 It is characterized by control points used to define 2D and 3D curves.
A model's topology is driven by edges and curves. Edges and faces are mainly based on splines.

Surface shapes are very important, therefore direct editability of underlying curves and edges is crucial.
Highlight lines, silhouette edges and flow lines of a model are important.
Using surfaces
The surfacing commands help you create complex parts and surface topology more easily. You can use surfaces in the following ways:
To define the projection extents when extruding a feature.
To replace existing part faces.
To divide a part into multiple parts.
To create a new surface or solid by stitching together separate surfaces.
To repair a model you imported from a third-party CAD system.
Construction surfaces are commonly used as projection extents when extruding a feature. For example, you can create a construction surface, then use the surface as input during the Extent step when constructing a protrusion.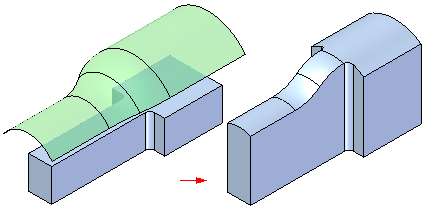 You can use the Offset Surfaces command to offset a new surface. The options on the command bar allow you to specify whether you want to offset a single face, a chain of faces, or all the faces that make up a feature.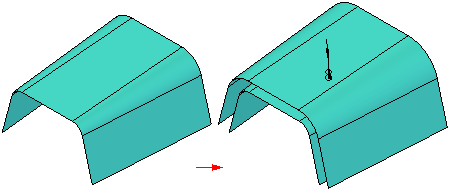 You can use the Stitched Surface command to stitch together Solid Edge surfaces, as well as surfaces created with another CAD system and then imported into Solid Edge.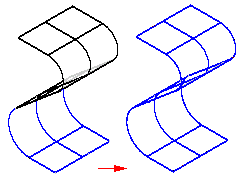 You can also create surfaces using the Part Copy command. If the Copy As Construction option is set in the Part Copy Parameters dialog box, the part copy is created as a construction surface.
Surface construction
Solid Edge provides two distinct 3D modeling methods:
solid modeling
surface construction
The solid modeling method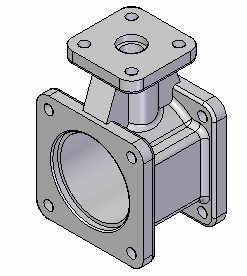 A product's function is the primary concern and aesthetics are purely an afterthought.
Solid Edge is an industry leader of this modeling style and exhibits these additional characteristics:
The various modeling operations are identified as features.
A history tree of features is maintained.
All properties used in defining a feature can be edited at any time.
The surface modeling method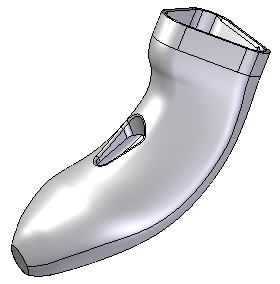 Many consumer products are designed using surface modeling techniques due to the market's emphasis on style and ergonomics; therefore, a model's aesthetics is the number one concern and key element in the design process. Product function is only a secondary consideration.
Like the solid modeling features, Solid Edge extends this style by making each point, curve, and surface an entity that knows how it was created, and can be edited at any time.
What are you looking for?
How do I
Article: What is surfacing and why use it?