Search Articles
View Other Content

0
Clipping planes
Clipping planes
view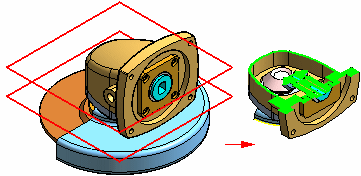 Controlling the display depth in a 3D window


When working with a complex part or assembly, you can make it easier to complete the current task by restricting the display depth to a narrow region in the active window.
Setting the clipping depth
You set the region you want to display using the Set Planes command. The Set Planes command allows you to define two clipping planes, (A) and (B ), which define the display depth of the active window.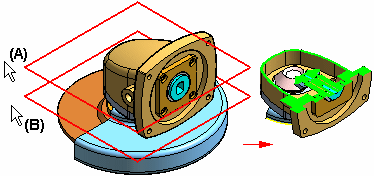 Toggling the clipping depth display
The Clipping On command toggles the display of the active window between the complete display and the region you defined with the Set Planes command.
Controlling the clipping plane color
When you shade a window that has its clipping depth defined such that it restricts the full display of the part or assembly, the clipping planes (A) display similar to a part face. You can set the color and opacity of the clipping planes using the options on the View tab on the
Solid Edge Options dialog box
.

What are you looking for?
How do I
Article: Clipping planes