Search Articles
View Other Content

0
Peer Variables command
peer variables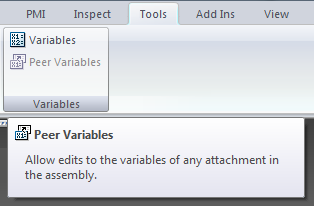 Accesses the variables for another part or subassembly. You can edit, copy, and paste variables between parts within an assembly.
Note:

In ordered modeling, before you can paste variable links in the Variable Table, you must set the Paste Link to Variable Table option on the Inter-Part tab of the Options dialog box.
What are you looking for?
(Hold down CTRLkey to open links in a new window)
Peer Variables command bar
Variable Table
Filter dialog box
Function Wizard Step 1 of 2 dialog box
Function Wizard Step 2 of 2 dialog box
How do I
Article: Peer Variables command